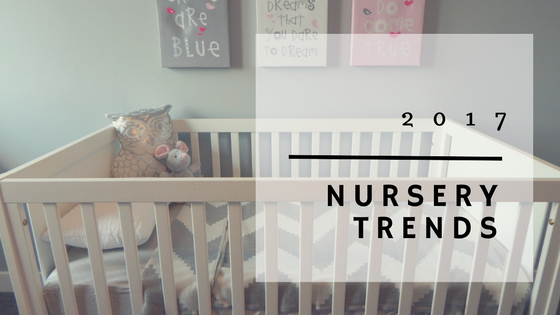 By: Arika B. (http://thehomegnomes.com/)
There are few things that get us more excited than cute baby clothes, but decorating nurseries might be one of them! 2016 saw plenty of nurseries being swathed in light pastel colors—especially with the Pantone colors of the year being rose quartz and serenity. So we decided to save you some time and scoured Pinterest, magazines, and interior design websites to take a guess at where we think 2017 nurseries are heading. We can't help ourselves; We love interior decorating and baby things! This is the best of both worlds.
With pastels making such a big splash this year, we don't see them going anywhere anytime soon. However, we might see less pink and blue and things will get a lot more earthy, and muted. Kidsinterior.com suggests that we will see turquoise, terracotta, beige and olive all becoming more popular options for nursery color pallets. We love these color pallets from Seeds for paint color inspiration!
One more trend that absolutely sticks out for me is using nature for inspiration for decorating. Looking for suggestions? Check these out!
Think about using:
Woven wood baskets– perfect for dirty clothes and storing loose baby things.
Sheets, bedding, and window treatments with natural materials.
Nature inspired art—we love these birch vinyl decals and deer prints from Etsy!
Green plants—these real ones are great because they are easy to care for, but don't worry, we won't tell if you use the fake ones!
With Love- The Home Gnomes